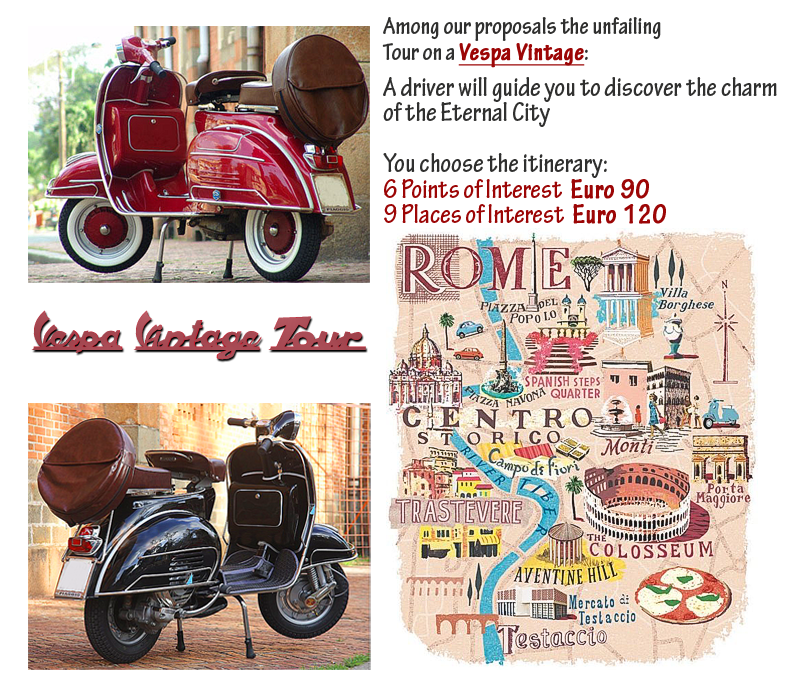 Vespa Tour.
We do not propose the "usual" tour, but something more ....
With us You will discover "The Great Beauty"!!

Among the services that we offer our Clients the unfailing "Vespa Tour."
More than the splendor of Ancient Rome, including the Colosseum and the
Roman Forum without forgetting the Domus Aurea and the Circus Maximus,
there is much more:
We will take you to visit the most beautiful streets of the Capital offering you unique
views of Rome (Via Piccolomini and Gianicolo).
You'll discover the most exclusive and stylish neighborhoods as the Aventino
the "legendary" neighborhoods as Trastevere (Piazza de 'Mercanti)
its characteristic alleys, the most famous squares of the World:
Piazza di Spagna and Piazza "Fountain" Trevi.
You can visit (on request) His charming Villas (Villa Borghese, Villa Pamphili)
and historical dwelling: you will be enchanted by "The Great Beauty"!

Rome Tour! Culture and fun going around the city.
Via Germanico 38 - 00192 Roma - 3898969003 - 3495334151 - 3392349495
Copyright romarentscooter.com - All Right reserved